By Junior Mayema,
While LGBT People around the globe are fleeing death in their countries LGBT people in some LGBT who live the more liberal western nations are still focusing on samesex marriages, honeymoons, baby showers and etc… A battle that has been won already instead of focusing on the pressing issue of our community but some LGBT people who are managing to escape are not staying idle or silence once they arrive here in these so-called gay friendly countries, they are creating an underground railroad to safety but the question remains are the services available for the heroes who are making it here ? well the answer is yes in Canada organizations are beginning to figure out where the gaps are with recommendations here is what i received in my e-mail today :
Envisioning Global LGBT Human Rights is proud to announce the launch of our new report on issues facing LGBT asylum seekers. The report examines the experiences of LGBT refugee claimants and refugees living in the Greater Toronto Area, and the experiences of community service providers who work with them. It offers 37 recommendations for developing policies and improving services.
Report: Envisioning LGBT Refugee Rights in Canada: Is Canada a Safe Haven?
Date and Time: Tuesday, September 29, 9:00 am – 12:00 noon
Location: The 519, Ballroom, 2nd floor. (519 Church Street, Toronto)
The report will be presented by a panel of members of the Envisioning research team, LGBT refugees and representatives of Envisioning's community partners.
Speakers:
– Nancy Nicol, Associate Professor, York University, Envisioning Principal Investigator
– Nick Mulé, Associate Professor, York University, chair of Envisioning's Canada Research Team
– Kathleen Gamble, PhD Candidate, York University, Research Assistant to Envisioning's Canada Research Team
– Craig Cromwell, Refugee Settlement Coordinator, Black Coalition for AIDS Prevention
– a representative of The 519
– LGBT refugee speakers
– a representative of Ontario Council of Agencies Supporting Immigrants will present the report recommendations
Moderator:
– Ramraajh Sharvendiran, Men's Sexual Health Coordinator, Alliance for South Asian AIDS Prevention
The question of whether Canada offers a safe haven to refugees is a very timely one. Our report focuses on LGBT asylum seekers; however, it locates their experiences in the context of recent significant immigration and refugee policy changes in Canada.
The research is based on focus groups that took place in 2012-2014. Focus groups with 92 asylum seekers were organized by Envisioning's community partners and four other focus groups were held with service providers.
The Canada Research Team partners are: Africans In Partnership Against AIDS, Alliance For South Asian AIDS Prevention, Black Coalition for AIDS Prevention, Egale Canada Human Rights Trust, Ontario Council of Agencies Serving Immigrants, Pride Uganda Alliance International, Rainbow Health Ontario, The 519 and York University.
The report will be available online following the launch on September 29 at:http://envisioninglgbt.blogspot.ca/p/publicationsresources.…
Envisioning Global LGBT Human Rights is an international research and participatory documentary film project, working to research, document and analyze issues of social justice and equality for LGBT (Lesbian, Gay, Bisexual and Transgender) people. We are based at York University, Centre for Feminist Research, Toronto, Canada. The project is funded by a Social Sciences and Humanities Research Council of Canada (SSHRC), Community University Research Alliance (CURA) grant, and conforms to Tri-Council research ethics guidelines. The report "Is Canada a Safe Haven?" is also funded by the Law Foundation of Ontario (LFO). While financially supported by SSHRC and the LFO, the findings of this research do not necessarily reflect the views of SSHRC and the LFO.
Contact us: envision@yorku.ca
For more information on Envisioning and to access our resources, please see: Website: www.envisioninglgbt.com
Facebook: www.facebook.com/envisioninglgbthumanrights
Twitter: https://twitter.com/EnvisioningLGBT
Nancy Nicol
Envisioning Global LGBT Human Rights
606 Kaneff Tower
York University
nnicol@yorku.ca
And here is the link of the story of our friend of Syria who mad it here in America and is now working with organizations to get more people to safety here in North America, i am even in that documentary called no place for me that is when i was still in South Africa  :
http://www.mtv.com/news/2266544/subhi-nahas-found-asylum-in-san-francisco-is-now-helping-other-lgbt-refugees/
LGBT refugees around the world still need help.
by kristina marusic 20h agoIt's not safe to be gay in Syria. All same-sex sexual activity is illegal — LGBT people can face prison sentences of up to three years if their sexual orientation is exposed, and while it's unsafe for just about everyone in Syria right now, the persecution of the LGBT community has gotten even worse than it used to be in the midst of Syria's civil war.
Unfortunately, Syria isn't that unusual — more than 75 countries throughout the world still enforce anti-homosexuality laws (many with much harsher punishments — including the death penalty) — which leads many LGBT refugees to seek asylum in other countries out of fear for their safety.
Subhi Nahas is a gay Syrian who left home after being terrorized for his sexual orientation by the Syrian military, insurgent militias, and even members of his own family. The San Francisco News outlet KQED reports that after an attack from his dad left him hospitalized, Nahas escaped to Lebanon and then fled to Turkey, where he began receiving death threats from ISIS for being gay, before he was eventually granted asylum in the U.S. Now he lives in San Francisco, among a community where he finally feels safe, loved, and supported.
Nahas was recently invited to tell his harrowing story at the first-ever meeting on LGBT rights at the United Nation Security Council, and now that he's safe, he's doing everything he can to help other Middle Eastern LGBT Refugees.
Nahas is working with the San Francisco-based Organization for Refuge, Asylum, & Migration (ORAM) — the same organization that helped him find asylum in the U.S. — which provides legal assistance to LGBT refugees and asylum applicants throughout the world. ORAM also provides tools, training and resources to aid workers working with LGBT refugees.
One of these tools is a five-language glossary of LGBT terms — which ORAM's executive director Neil Grungras told KQED is super essential "so when refugee professionals interview someone who is gay, they don't call him a male prostitute instead of calling him a gay person, which is very, very common" since "a lot of refugee professionals only know insulting terms for LGBT people around the world."
According to Nahas, there are at least 400 other LGBT Syrian refugees who have escaped to Turkey, where they still face some very real threats — "In Istanbul and Ankara, groups raised banners calling for gays to be killed," he wrote in a recent story for the Huffington Post. "My friends are feeling alone and terrified about what might happen to them; the same loneliness and fear that I once felt.""We may not be able to do much to improve conditions for LGBT people in Syria, Iraq or other countries," he continued. "But we sure can help the individuals who manage to escape."
The situation of LGBT people has gotten worse in most part of the world even The NSA whistleblower Edward Snowden has criticised Russia for its crackdown on internet freedom and lax attitude to gay rights, despite having been granted asylum by the country., living in 'exile' in Russia, calls government fundamentally wrong as he accepts Norwegian prize
Here is the story below about it :
http://www.theguardian.com/us-news/2015/sep/05/snowden-criticises-russia-internet-homosexuality
The NSA whistleblower, living in 'exile' in Russia, calls government fundamentally wrong as he accepts Norwegian prize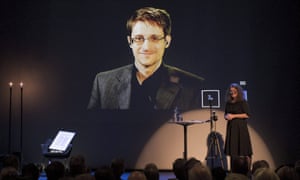 Edward Snowden has criticised Russia for its crackdown on internet freedom and lax attitude to gay rights, despite having been granted asylum by the country.
The National Security Agency whistleblower described Moscow's tightening grip over online activities and treatment of gay people as "fundamentally wrong".
The former US intelligence contractor was given a three-year residence permit in August 2014, but insisted that it was never his choice to go there. He said he would prefer to live in the US, although he cannot return without facing arrest for leaking to the Guardian classified documents revealing the vast scale of the country's surveillance programmes.
The 32-year-old was accepting the Norwegian Academy of Literature and Freedom of Expression's Bjornson prize – which he was awarded for his work on the right to privacy – by videophone from Russia when he described the country's restrictions on the web as a "mistake in policy". He said: "It's wrong in Russia, and it would be wrong anywhere.
"I've been quite critical of [it] in the past and I'll continue to be in the future, because this drive that we see in the Russian government to control more and more the internet, to control more and more what people are seeing, even parts of personal lives, deciding what is the appropriate or inappropriate way for people to express their love for one another … [is] fundamentally wrong."
Despite his criticism of Russia, Snowden said he still felt free to express himself online. "I do. And I think it's primarily in the context of the fact that most activities happen online. I mean, when people ask me where I live, the most honest answer is on the internet."
But he described the ever more restrictive use of intelligence monitoring by richer nations as useless and said the Charlie Hebdo attack in Paris in January proved that surveillance does not necessarily keep citizens safe.
He said: "They say: 'Well, these things are necessary to keep us safe'. In the Charlie Hebdo attacks, for example, the intelligence services say: 'Oh yes, we knew who these people were'. But it didn't stop the attack."
Snowden, who left Hawaii in May 2013 for Hong Kong, where he leaked the trove of classified documents before leaving for Russia, said his life is now normal but he misses the US. He said: "I mean, I would prefer to live in my own country. But exile is exile."
And very happy that a Liberal country like the Netherlands stepped in and  is now trying to get gay people from Russia to safety in Holland the story unfold below ;
http://www.gaystarnews.com/article/dutch-government-admit-russian-lgbtis-are-in-danger-offer-asylum/
Dutch government admit Russian LGBTIs are in danger, offer asylum
Until recently, Moscow and St Petersburg were considered 'safe spaces' for LGBTIs – now asylum applications will be made easier
Wikimedia
The Dutch government has declared Russian LGBTI asylum seekers a risk group following a letter by the State Secretary for Security and Justice.
In the letter Klaas Dijkhoff wrote to the Tweede Kamer der Staten-General – the Dutch House of Representatives – he states that the Russian anti-gay laws 'further fueled anti-gay sentiments among the population'.
'The law also gives radical groups carte blanche to attack, intimidate or discriminate against LGBTIs, because authorities hardly take action againstacts of violence against them ' Dijkhoff wrote.
He also highlighted the growing number of attacks and the steep rise in violence against LGBTI people since the law came into force, according to de Volkskrant.
By appointing them as a risk group, Russian LGBTI asylum seekers will be eligible for asylum if they show minor indications of persecution in their home country, although they must still demonstrate this through personal circumstances and facts.
Before the change, cases were treated on an individual basis, with asylum seekers having to explain their situation and lay out the dangers they would face upon their return to Russia.
Until now, the Dutch government still labeled Moscow and St Petersburg as safe places for LGBTIs, despite an official report by the Ministry of Foreign Affairs, stating same-sex couples had to fear violence everywhere in Russia.
'This is very good news for Russian LGBTI asylum seekers,' said Tanja Ineke, chair of COC Nederlands, the oldest LGBTI organization in the world.
'We are counting on the Russian LGBTI asylum seekers who are fearing deportation to also be allowed to remain in the Netherlands.'
In the past, the Dutch government had told LGBTI asylum seekers to move to other places, according to COC Nederlands.